Jurassic World: Dominion Dominates Fandom Wikis - The Loop
Play Sound
Let Down is the fifth track off of Radiohead's third studio album OK Computer.
Background and Recording
Let Down was intended to be the first single off of the album, but Paranoid Android was chosen instead. The track was ultimately not released as a single because the band was unsatisfied with the video they had produced, and ended up losing money. However, it was released as a promotional single later.
The song was recorded at St Catherine's Court mansion ballroom. Thom Yorke was inspired to write the song while sitting in a pub, noting the customers "clinging on to bottles" and sensing in them the "emptiest of feelings," a sense of disappointment.
Composition
Let Down contains multi-layered arpeggiated guitars and electric piano. Jonny Greenwood plays his guitar part in a different time signature to the other instruments. O'Brien said the song was influenced by Phil Spector, a producer and songwriter best known for his reverberating "Wall of Sound" recording techniques.
Meaning
Let Down is about a fear of being trapped and "that feeling that you get when you're in transit but you're not in control of it—you just go past thousands of places and thousands of people and you're completely removed from it."
Music Video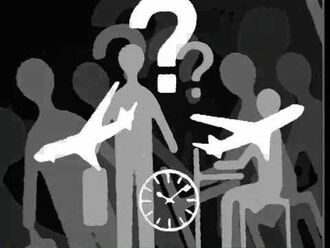 Lyrics
[Verse 1]

Transport, motorways and tramlines

Starting and then stopping

Taking off and landing

The emptiest of feelings

Disappointed people

Clinging on to bottles

And when it comes it's so, so disappointing

[Chorus]

Let down and hanging around

Crushed like a bug in the ground

Let down and hanging around

[Verse 2]

Shell smashed, juices flowing

Wings twitch, legs are going

Don't get sentimental

It always ends up drivel

One day I am gonna grow wings

A chemical reaction

Hysterical and useless

Hysterical and

[Chorus]

Let down and hanging around

Crushed like a bug in the ground

Let down and hanging around

[Bridge]

Let down and

Let down and

Let down and

[Verse 3]

You know, you know where you are with

You know where you are with

Floor collapsing

Floating, bouncing back

And one day

I am gonna grow wings

A chemical reaction

(You know where you are)

Hysterical and useless

(You know where you are)

Hysterical and

(You know where you are)

[Chorus]

Let down and hanging around

Crushed like a bug in the ground

Let down and hanging around